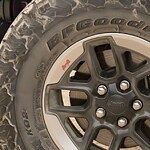 A showpiece in the compact SUV world, the completely redone Jeep Wrangler has some of the most exciting exterior features available to buyers today. These features allow you to customize your ride and make your new Wrangler suited for any environment in which you drive it.
It is one of the few SUVs, for example, that allows you to take off and add body parts to customize its look and function. You can get it with an optional hardtop that you can add to the top of the vehicle to add extra security and protection. It also has a soft top that you can remove to make the cabin airy and open to the elements. You have the choice of how you want your cabin to look and feel while you drive.
For off-roading adventures, use the SUV's standard 17-inch wheels. You can upgrade to 18-inch machined aluminum wheels, however.